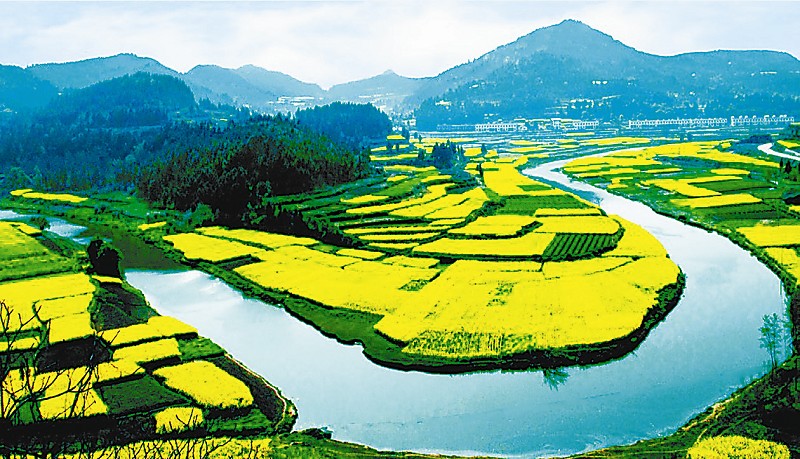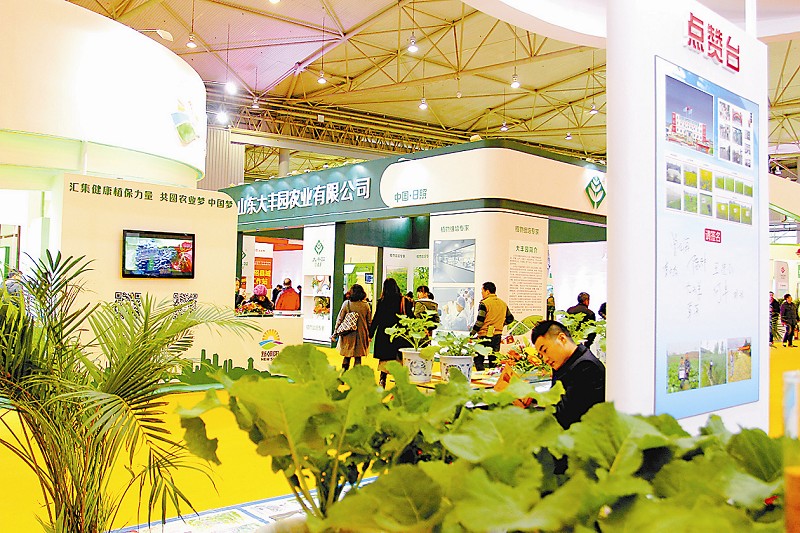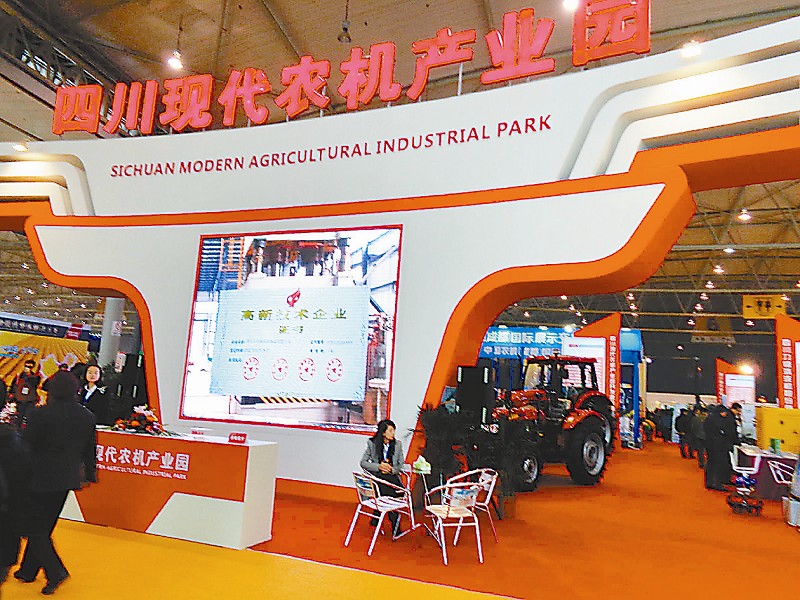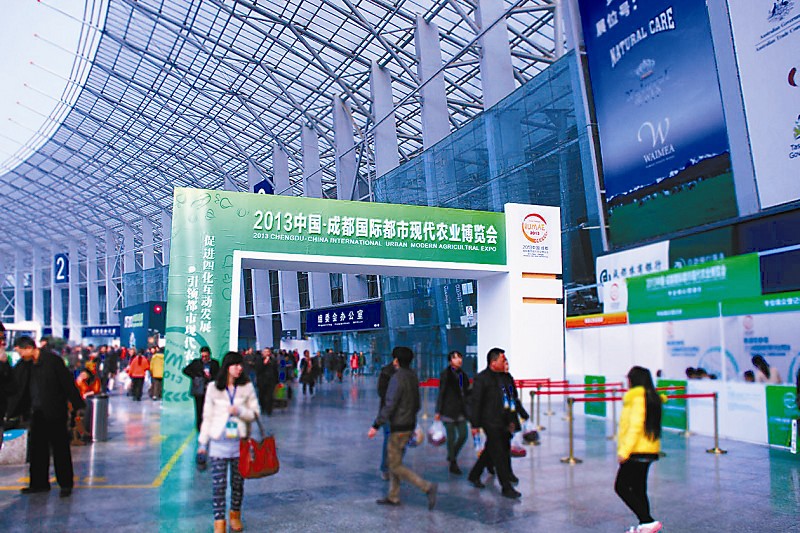 Long reputed as a big producer of farm products,Sichuan takes pride in a solid foundation of agricultural industrialization and a high pace of progress.Sichuan has taken the lead among western provinces in agriculture for successive years.In 2014,crop production grew steadily to a total of 67.5 billion jin,and in terms of pig/waterfowl/rabbit/honeybee farming,the province remained the largest producer nationwide.Rural tourism reaped RMB132 billion in income,accounting for 27.5%of the local tourism industry,creating jobs for nine million peasants and ranking on top in China.
The target of Sichuan for 2015 aims at an over 500-million-jin increase in crop production,a 2%increase in meat production,a 3.8%increase in aquatic food production and an over RMB200 income growth in livestock farming and fishery.The target for steady growth bears testimony to the benefits of the released potential inherent in reform as well as Sichuan's confidence in developing the agricultural sector.
In the past few years,Sichuan has switched to a state of economic new normal which features medium-to-high speed,optimal structure,new motive power and multiple challenges.In the new situation,Sichuan has made every contributive endeavor to address the new concerns in modern agriculture by revolutionizing development mode and adjusting structure.While paying regard to agricultural production,the governments at various levels focus increasingly on market development and brand development to promote more local brands on non-local markets.
Since initiation in 2013,the Sichuan Agricultural Fair("Agricultural Fair")has garnered the repute as the first local agricultural fair brand as well as one of the three trade fairs hosted by the Sichuan Provincial People's Government as per State Council approval.The Agricultural Fair has emerged not only as a platform and avenue for agricultural producers in Sichuan and Western China to exchange and collaborate across the industry chain.Also,it's a showcase for the achievements in local agricultural reform.
Specialized Agriculture
Sichuan is endowed with diverse landforms,unique climatic conditions and favorable ecological conditions.The unique advantages lend themselves to the development of specialized agriculture.As one of the first provinces to adopt rural reform,Sichuan has been taking advantage of local resources to develop specialized agricultural sectors to suit local conditions and accommodate the various local demands and markets.The ultimate target is to strengthen specialized agriculture to forge competitive advantages.
The Agricultural Fair,which has been successfully held for two years,is highlighted as an important showcase for special agricultural supplies from all around Sichuan(e.g.lemons from Ziyang,pomegranates from Liangshan,pickles from Meishan and mangoes from Panzhihua),earning substantial income for local peasants.
The cities and prefectures spare no effort to grasp business opportunities and demonstrate their respective specialized products.In the first Agricultural Fair in 2013,Panzhihua appeared as a sunny flower city featured with modern specialized agriculture and holiday resorts and carried out a series of themed activities,such as consummation of agricultural industrialization agreements,shows of specialized agricultural products and characteristic shows of rural culture.Besides,24 leading agribusiness from Panzhihua appeared at the show with their respective hit products,such as mangoes,leafy greens,pomegranates,truffles,pitayas and West Panzhihua Sunshine®wines.
The specialized agricultural products sell very well,winning the acclaim of both the exhibitors and the visitors.At the second Agricultural Fair in 2014,Meishan appeared with a number of products of geographical indication(GI),including loquats from Wengong,green tea from Hongya and cold ba from Danling.Neijiang appeared with figs from Weiyuan,Dendrobium officinale from Neijiang,blood oranges from Zizhong and Zhou's sauce-pickled turnip from Weiyuan.As the host city,Chengdu was no less appealing,appearing with winter strawberries from Shuangliu,broad bean sauce from Pixian,chili pepper from Shuangliu,preserved pickles from Xindu,Chuanminshen violaceum from Jintang,navel oranges from Jintang and purple potatoes from Jintang.
Suining alone mobilized for the fair 38 major agricultural companies at or above the municipal level,35 rural cooperatives and a score of private farms.On show were over 300 ranges(1000 kinds)of specialized agricultural products.For specialized agricultural products,the site trade volume came to RMB2.715 million and the aggregate contract value came to RMB 242 million.
High-tech Farming
Sichuan has made encouraging accomplishments in agricultural technology in the past few years.In the 12th Five-Year Plan period,significant breakthroughs were made in breeding,therefore improving crop seed harvest and quality and propelling agricultural structure adjustment.It is indicated by the statistics that the rate of science progress contribution climbed to 57%in 2013 and proved higher than the national average.From the 10th Five-Year Plan period to the 11th Five-Year Plan period,1,734 technological achievements were applied,account for 70.8%of the total.Besides,the application rate of both crop farming and livestock farming was in excess of 70%.
Science&technology has been injecting fuel to the province's agricultural sector.Science is another highlight at the Agricultural Fair.Themed with"Science as a Propellant for Agricultural Development and Brand Development",the second Agricultural Fair showcased the latest innovations originated by 48 famous domestic research institutes,universities,entities and enterprises,including but not limited to CAS Wuhan Botanical Garden,BGI Shenzhen,Sichuan Academy of Agricultural Sciences,and Sichuan Agricultural University.These achievements have facilitated the transformation of traditional farming into modern agriculture.
In addition,the Agricultural Fair introduced more technological elements.The pavilions set apart a special area for demonstrating technological achievements,and technology trade fairs were held at the same time.Technology as a creative product lends itself to heightening productivity and cutting costs.Perpetual innovation with increasing profundity evidences the concept of"Technology Changes Our Life and Future".
Recreational Tourism
In recent years,Sichuan has attached great importance to developing recreational tourism as an important leverage mechanism for the mode and structure of agriculture and rural economy.Recreational tourism diversifies agricultural functions,extends the industry chain,improves the value chain,promotes the integration of the primary,secondary and tertiary industries,and increases crop yield.
It is reported that Sichuan has totaled 30,000 recreational agriculture and rural tourism operators by 2014,which have arranged for 300 million visits,created a total turnover of RMB132 billion,accounting for 27.5%of the local tourism industry,up by 18%year on year.In industrial scale and economic efficiency,Sichuan ranked on top of the national list.Recreational agriculture has contributed RMB7.7 billion to per capita peasant income as a new income growth pole.
One of the highlights of the second Agricultural Fair in 2014 is the thematic pavilion of recreational agricultural and rural tourism,where brands of attractive granges and provincially-exemplary farmsteads flourished to promote themselves to domestic and international customers and demonstrate the achievements had made in local recreational tourism.A dozen of brands of provincially-exemplary granges,farmsteads and farmhouses made their appearance as the pleasurable recreational resorts in Chengdu.These include the Zhongdu Vegetable Thematic Park,the Wuduojinhua Park(in Jinjiang),and Ziyitiantang Park(in the Tianfu New Area).
The granges and farmsteads also provided at the fair a range of pastimes,like experiential tea drinking,experiential fruit plucking&and tasting,and one-day one-stop park tour.The Chaxigu Farmyard provided for the visitors multiple"quotas of farm ownership"and free"farmer ID cards",which entitled the card holder to lease a one-fen field and experience the pleasure of planting and harvest.